World famous artist RAYMOND PETTIBON forms a new band

5 song CD available on new label LOVE UNLIMITED, INC.

SUR DRONE features PETTIBON on vocals and amazing original PETTIBON cover art

PETTIBON has already achieved worldwide recognition, working with BLACK FLAG, SONIC YOUTH and the legendary SST record label

SUR DRONE also includes guitarist DANIEL ADAMS and drummer CHRISTIAN MADRIGAL, famous for their work with the groups PAY THE MAN, TRILLION STARS, and soundtrack work for legendary filmmaker ROGER CORMAN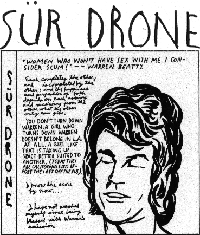 A punk-era artist whose work has gone way respectable, Raymond Pettibon is well-known for doing album cover art for Black Flag, Sonic Youth, and the Minutemen, while his recent drawings have been shown at MOCA and the Whitney Biennial. He's also written a bunch of charming songs for his band, Sur Drone, which includes all of the members of Trillion Stars, along with various other local musicians. A typical Pettibon lyric goes something like "You're a Virgo/So what/You've got a big ol' butt/Do you like my ass?/I'm Sagittariass/I'm serious" from the psychadelic "Sagitariass" off Sur Drone's CD, which also includes "King Rat" and "Space Mutha" which kind of rocks in a broken-down-spaceship sort of way. The pleasingly inept music works well with the "drunk folks jamming into the night and eventually collapsing" quality of the group. After seeing them, you may think, "This is the kind of band I'd like to be in."